Product: Rosewill RL-W73001-4P LED Lights
Provided By: Rosewill
Price: $44.95 Online at time of publication ($11.24 / bulb)
Today I'm going to briefly cover a product that is becoming more and more popular since North America has pretty much banned the production and sale of incandescent bulbs. These "legacy" bulbs have been around forever and they are not all that efficient. They have been replaced with CCFL (twisty) bulbs that are a step in the right direction, but those too get quite hot as well and excess heat is energy that is getting used up as heat – and not light.
That's where LED bulbs come in. They are a step farther down the path toward energy efficiency and while they are a dramatic leap forward, I'm sure that this technology will mature and we'll be getting better and better products as time marches on. I'm going to look at a four-pack of Rosewill RL-W73001 bulbs today.
First Look:
To keep things interesting, I'll take a look at the box and specifications – just as we do with other products I review over at BCCHardware.com. As you can see below, the packaging is pretty minimalist and the box includes a few details including features and specifications. It is pretty basic.
Features:
ROSEWILL RL-W73001-4P , A19 Non-Dimmable LED Light Bulbs, E26 Base, 6.5W, 50W Replace, 560Lumen, UL CE ROHS, 3000K, Warm White, Wide beam angle 230°,4 Packs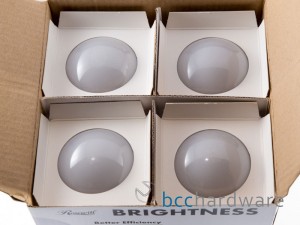 It's important to note that we will be putting these bulbs up against a standard (legacy) 60W bulb, 100W bulb and a 23W CCFL for comparison. In all of these tests, we expect the Rosewill LED Bulb to be dimmer as they are designed to replace 50W bulbs.
Specifications: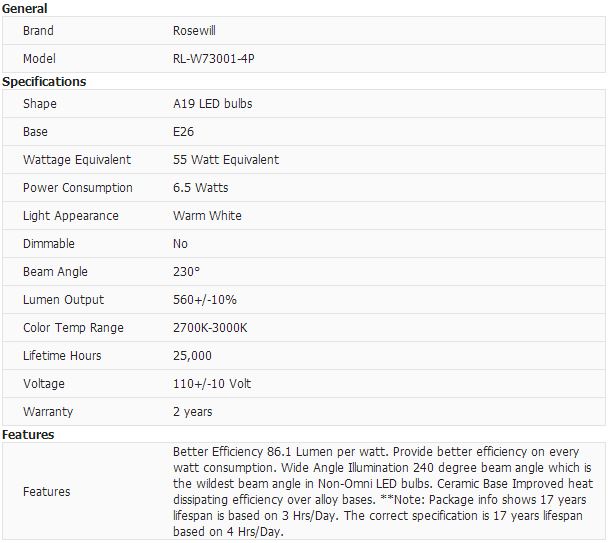 Testing and Thoughts:
I'm a nerd and I can't make myself do a review or post up an article without actually testing a product. So I tested these out quite objectively. We used a power meter as well as a lux-meter and an infrared thermometer to compare the power consumption, brightness and heat output on each of these bulbs. The numbers were recorded after being powered for 10 minutes to get a better indication of how hot the bulbs get and this gave enough time for the CCFL to "warm up" and reach maximum brightness. Please note the numbers below.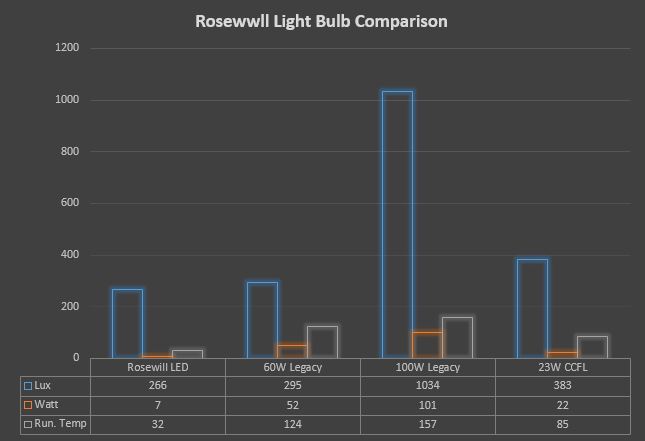 I was honestly very skeptical when I first opened these LED bulbs. They are heavy due to the ceramic base that helps absorb and disperse heat, and the bulb portion is plastic – not glass. It is a weird feeling to handle a bulb that you aren't afraid will break and kill you with micro-shrapnel.
When you flip a switch, the bulb takes about a second to power on, whereas a legacy bulb lights up immediately. The delay is less than with many CCFL lights though and these LED bulbs done really require a "warm up" time as do the CCFL units.
They are bright and the color of these bulbs compares to tungsten bulbs and is so natural and similar that you could swap these out without most people noticing you are now using bulbs that sip a mere 7W of power. That's right, these produce a fair amount of Lux without using a lot of power and are by far the most energy efficient bulbs I've ever used.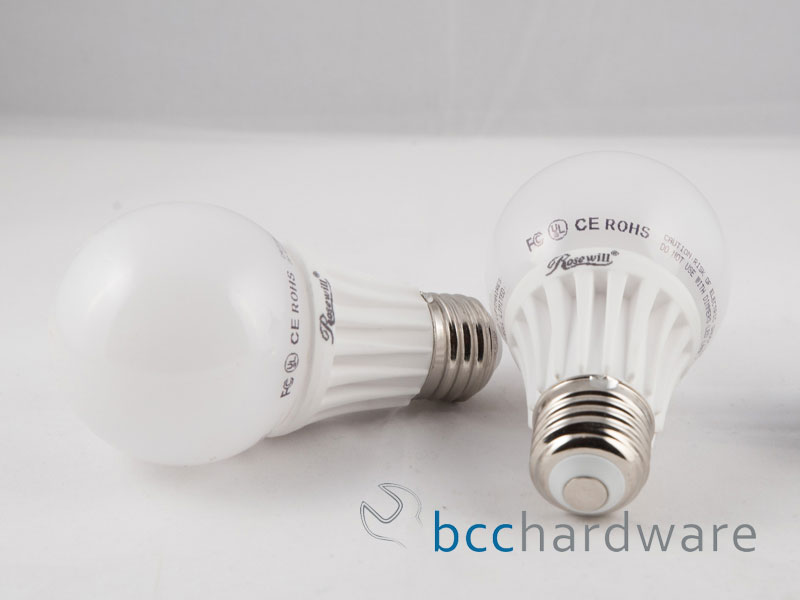 I'm looking forward to seeing where illumination is going in the days ahead. These bulbs are quite affordable and work without any issues at all. With bulbs like these paving the way into 2014, the future looks bright for sure.